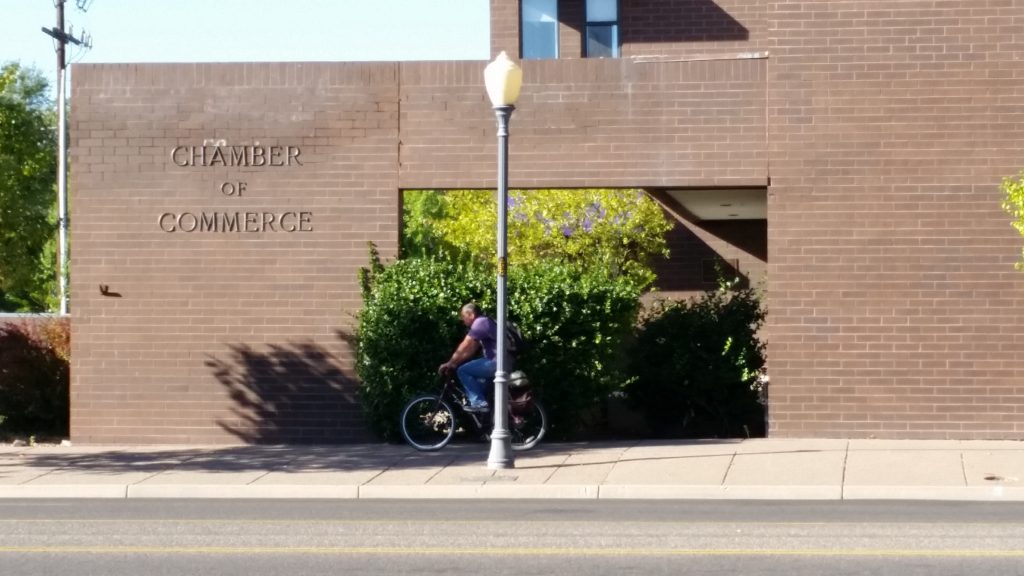 It's election time again, and soon the Grand Junction Area Chamber of Commerce will issue it's "2016 Voter Guide" in an attempt to try and influence how people in Mesa County vote on ballot measures and local elected offices.
If you're an average, hard-working working citizen in Mesa County, there is only one thing you need to know about the chamber's voter guide: ignore it.
Why?
Because the chamber doesn't represent Mesa County's working population. It exists solely to promote the financial interests of the few Mesa County businesses who pay its dues, and nothing more. What's more, most businesses oppose measures aimed at helping workers and their families, so the chamber reflexively opposes any ballot measures that would benefit the thousands of workers and residents who spend money locally and really keep this area humming.
The Chamber Opposes the Interests of Most Area Workers and Their Families
One way the chamber is bad for workers is that it opposes any increase in the minimum wage, no matter how low local wages are, and this year is no exception. This year, the chamber is opposing a statewide ballot measure to raise the minimum wage in Colorado to $12/hour (Amendment 70). A living wage for two adults and two children in Mesa County, if both adults are working, is $15.34/hour. (The definition of a living wage is the hourly rate an individual must earn to support their family.) According to the Bureau of Labor and Statistics, the average wage in Mesa County is already about 11 percent below the national average. Yet the chamber says "no increases."
The chamber also opposes even modest measures to increase funding for District 51 schools; it opposes requiring employers to offer health insurance to employees who work 30 hours a week, and their families. The chamber opposed a state bill (HB16-1001) that would have mandated equal pay for equal work for employees working on state contracts. The bill would have prohibited employers from paying lower wages to employees based on their gender, race or ethnicity. The chamber opposes laws to require the labeling of food that contains genetically-modified ingredients. The chamber opposes universal health insurance for all Coloradans, opposes measures to boost renewable energy and has even sued the Grand Valley Drainage District to try to get businesses a lower rate than homeowners on the recent stormwater fee increase.
Chamber Promotes Out-of-town Businesses' Influence on Local Issues
It may be named the "Grand Junction Area Chamber," but many of its members, including highest-level members — big banks, hotels and telecom companies — are based out of the aream even out of state. Wells Fargo holds numerous high-level memberships in the chamber (one for each branch office), and is headquartered in San Francisco. The company that just purchased Rocky Mountain Health Plans, UnitedHealthcare, is based in Minnetonka, Minnesota. U.S. Bank's headquarters are in Minneapolis, Minnesota. The Holiday Inn corporation is based in Atlanta, and so on. The "Grand Junction Area Chamber" actually has members in Denver, Arvada, Lakewood, Fort Collins, Greenwood Village, Centennial, Glenwood Springs, Moab and Provo, Utah, Reno, Nevada, Houston, Texas, North Carolina, Oklahoma and even Washington, D.C.
Yet the chamber lobbies locally on behalf of all of these members.
So why should companies on the front range, or in other states, have any influence at all over issues and candidates in Grand Junction?
The answer is, they shouldn't.
But they do, and the chamber provides it to them in spades, exchange for money, and plenty of it — it's your basic lobbying arrangement masquerading as membership in what is essentially a private club.
A "Chairman's Circle" membership in the chamber (the most exclusive, top-level membership) is now $6,225 a year, just a bit less than a top-level membership in the Bookcliff Country Club. This is not the kind of money most people around here can afford, but is a worthwhile lobbying expense for big corporations seeking to use the chamber's out-sized political influence to help block increases in the minimum wage or measures to require giving workers additional benefits.
The Chamber's Influence Has Set Us Back
Compared to the sheer number of average, hard working people in Mesa County, the Grand Junction Area Chamber of Commerce wields outsized political influence, and this has left voters in this area the losers time and time again.
For example, in 2013, the chamber urged people to vote to rezone a chunk of land by the Colorado River back to industrial zoning on behalf of it's member, Brady Trucking, promising citizens that the company would deliver high-paying "jobs and trails" to the community if the re-zone was approved. People duly approved the re-zone, but today, over three years later, the land remains the unchanged — full of old, falling down buildings and concrete slag; Brady Trucking has brought no new jobs or additional trails by the river, and citizens are left with another neglected, industrial eyesore by the river, like in years gone by.
Another example is a community recreation center.
For years, Grand Junction citizens have sought a community recreation center, like the ones Fruita, Delta, Montrose and Durango have built for their citizens. Over and over, Grand Junction City Council has denied area residents this amenity based on unproven claims that such a facility might possibly be financially detrimental to a handful of private businesses in town, like for-profit athletic clubs. (Full disclosure: the City of Grand Junction pays for a high-level membership in the chamber, even though it isn't a business, and a significant number of chamber loyalists sit on City Council). The chamber's influence over city council has helped thwart efforts to get a community center for decades.
Time to End the Chamber's Out-Sized Influence
So don't let the chamber deny progress for our area and its workers any more. When their voter guide comes out, remember it isn't valid for most people who live here because the chamber doesn't work for most people. They work on behalf of a relatively small number of businesses, many of which are big corporations that aren't even based here.
The bottom line: the chamber does not care about you; it does not consider the needs of average workers and their families in making political pronouncements about how to vote for local issues and candidates. It does not care about local poverty rates, low wages, starving families, homelessness or any other issues related to the quality of life for average working citizens. It cares about keeping pay low, keeping worker benefits as close to non-existent as possible, and lobbying on behalf of its dues-paying members.
The most beneficial thing for working people in our area is to ignore the chamber and whatever they recommend, and be sure to vote in your and your own families' best interests at the ballot box every chance you get.
---
Related posts:
Western Slope Workers' Public Enemy Number 1: The Grand Junction Area Chamber of Commerce, August 11, 2016
Why Average People Shouldn't Listen to the Grand Junction Area Chamber