It's time for our local paper, the Grand Junction Daily Sentinel, and other publications to stop advertising guns. This is the rock-bottom minimum that can be done to end the glorification of guns and senseless proliferation of gun violence in society. It is the metaphorical lifting a pinky finger to take action against a problem, but it is necessary.
Given the rate at which gun massacres are happening in our country, as a matter of health and safety, it's time to just stop promoting guns in any way, and nowhere is this more true than in Mesa County.
People who want a gun in western Colorado already know where they can go to buy one. People who don't want guns aren't going to buy one anyway. Beyond this, guns are continually getting into the hands of people who misuse them to kill and injure others, and putting more guns into more people's hands will only exacerbate the problem.
Ads selling guns and promoting gun shows give criminals, psychotics and minors easy directions to places and events where they can buy or steal guns. Ads for gun stores tell people with bad intent where they can go to steal guns. These are all net negatives to Mesa County, which is already suffering so many negatives from the proliferation of firearms in our area.
Promoting guns in an area with a sky-high suicide rate is heartless, senseless and inappropriate.
Mesa County's suicide rate is now almost three times the national rate, and our County has one of the highest suicide rates in the nation. Suicide with a gun is the most common way people kill themselves, and it is the most deadly method of committing suicide. Males are four times more likely than females to kill themselves using firearms.
Mesa County follows this trend. The odds of a household member dying from a firearm increases drastically for people who have a gun in the house.  Advertising firearms in our area does nothing to ameliorate this trend and gun ads may even contribute to it by legitimizing and condoning having dangerous firearms in homes.
Potential for harm outweighs benefits
Guns are legal, and Americans have a right to own guns. But the only purpose for advertising guns is to sell more guns, and we don't need more guns in Mesa County. As suicides by firearm reach all-time highs in Mesa County and gun massacres across the U.S. have become every day occurrences, the very least we can do to address the problem is acknowledge that gun proliferation is a real problem across the nation, and stop advertising guns. The use of firearms in an urbanizing area has little societal benefit, and offers more downsides than upsides: The presence of firearms in homes increases accidental shootings, increases the likelihood of school massacres and criminal activities, increases the rates of accidental injuries, deaths of children and increases the likelihood that some portion of gun owners will be careless in how they secure their guns. Any upside doesn't even begin to compare in magnitude to the many serious downsides of having a county awash in guns.
The Daily Sentinel no doubt derives some income from gun ads, and while the paper may be helped financially in the short term, gun ads pose a huge detriment to Mesa County overall.
Other deadly products have long been deemed inappropriate for advertisement, too.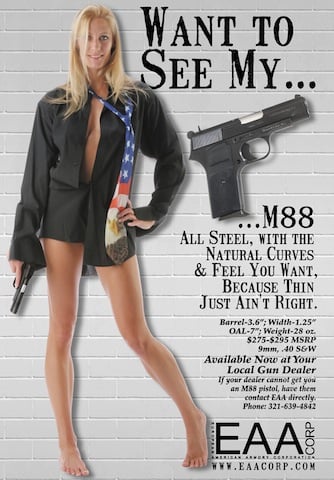 We've been in this same situation before with other deadly products.
Cigarettes used to be advertised on billboards, on television, in newspapers, in magazines and on the radio and TV. Smoking in TV shows was done without thought. As they did with cigarettes, advertisers link guns to masculinity, femininity, toughness and fun. But society as a whole finally realized that cigarettes were killing and maiming people at an astonishing rate, and costing society an outrageous amount in terms of medical care, lost productivity and lost lives. The day finally came when people decided advertising cigarettes was just plain inappropriate.
We're in the same place now with firearms. Norms change as society comes to understand how corporate behaviors harm society.
We're at the point now where it would be common sense for Americans to demand change in how we regard gun ads. In a climate of routine mass slaughter, gun ads have become shameful, a reminder of the massacres occurring daily across the country, too painful to too many families who suffered loss and, plain and simple, they should not exist.
Gun ads are already banned from many media venues, including other newspapers.
Guns are not ordinary products like potato chips, moisturizer or laxatives.
Guns are in a class of semi-legal, harmful products like cigarettes and alcohol, but what sets them farther apart from these other products is that unlike cigarettes and alcohol, guns are designed to be used on something — or someone — other than the user: an inanimate target, an animal or a human being. This makes them heinous beyond these other products and puts them in a category all their own, deserving of even more scrutiny and drastic restrictions.
As a society we often draw lines on where we want to stop harmful and deadly products from being pushed on us.
The Mesa County Commissioners today banned the sale of fireworks within the county due to excessive fire danger caused by drought, citing potential harm to safety, life and property.
"We have to realize that in the over all scheme of things [fireworks sales are] not good for the community or the county and the risk of people's property, their lives or the wildlife," said Mesa County Commissioner John Justman. The same justification could just as easily be applied to gun sales and advertising.
Fortunately, across the country media companies are starting to understand that it's time for gun ads to go.
In April 2018, YouTube banned videos promoting the sale or use of guns, including videos that show how to manufacture guns and accessories like silencers, conversion kits or or bump stocks. Guns cannot be advertised for sale on EBay. Weapons, firearms and their components and ammunition are banned from Craigslist. Ads for guns, ammunition and explosives are banned from Facebook. In 2013, the National Football League banned an offensive, pro-gun ad (video) from being aired during the 2014 Superbowl.
Lots of other newspapers have already banned gun ads.
According to Editor and Publisher magazine, by 2003 a host of daily papers around the country had tightened their rules for gun ads or dropped gun ads altogether, including The Philadelphia Inquirer, The Philadelphia Daily News, The Denver Post, the Detroit Free Press, The Detroit News, the Sandusky (Ohio) Register and the Telegraph Herald in Dubuque, Iowa.
The south Florida Sun Sentinel recently banned gun ads from it's paper after being criticized for printing an ad for a gun show beneath multiple stories about mass shootings.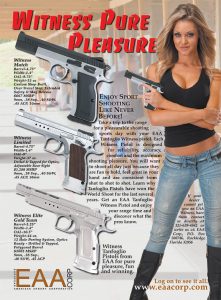 Connecticut's Stamford Advocate stopped advertising guns after placing an ad for a gun show on the same page as a story about the Sandy Hook massacre. 
In Charleston, South Carolina, the Post & Courier offended it's readers after it slapped a sticker advertising a gun range on it's front page above the headline "Church attack kills 9," about the massacre at the Emanuel AME Church in 2015. Readers were appalled.
The Grand Junction Daily Sentinel shouldn't wait until it shoots itself in the foot the way these other papers have done, or wait until Mesa County experiences a gun massacre in a school, concert, theater or local church before it stops promoting guns in our area. Stopping taking gun ads at this point in America's history would materially advances the substantial goal of ending the glorification and proliferation of firearms, and the benefits would clearly outweigh the costs to society of any continued such advertising. But even more certainly than this, it is just the right thing to do.