Tina Peters repeatedly tells a sad story in interviews and at conferences that she would have been married to her husband for 36 years by now if only Mesa County District Attorney Dan Rubinstein and the FBI hadn't gone into a Grand Junction nursing home and forced her husband Tom, who she says has "advanced dementia," to sign divorce papers dissolving their marriage. She tells this story sometimes angrily, and sometimes tearfully, dabbing at her eyes, sniffing and sounding like she's about to cry. She says the story is evidence of a coordinated plot being carried out against her by a cabal of high-level Democrats who are intentionally harassing her and trying to silence her because of what she's supposedly revealed about election fraud here in Mesa County. The cabal consists of D.A. Rubinstein, his "criminal" investigators, the FBI, Colorado Secretary of State Jena Griswold, wealthy financier George Soros and U.S. Attorney General Merrick Garland.
Right wing talk show hosts eat up the story
Conservative talk show hosts eat this story up. They point to it as evidence of the extraordinary sacrifice Tina has been forced to make at the hands of the political left for exposing the Earth-shattering story about election fraud in Mesa County, a story for which Tina has never presented any viable evidence, and which has been proven to be untrue.
Tina told the "D.A.-came-to-the-nursing home" story on Steve Bannon's show "War Room" on May 26, saying "I've lost all the men in my family at this point, some at the hand of the D.A., so there's not much left they can do to me… I feel very bullet-proof at this point, except that we need funding…" She told the story tearfully on Joe Oltmann's "Conservative Daily" talk show "Live with Tina Peters" published on Rumble.com on June 27, 2022. She repeated the story angrily at the election-denier sheriff's conference she attended in Las Vegas on July 12 (see the video clip at the top of this article). She told it to Debbie Georgatos on her "Can We Talk" show on Lindell TV on July 22, and on April 3 on The Mel K Show on Rumble.com. She keeps on telling it over and over, and no wonder — the story instantly brings gasps of shock, wins her loads of sympathy and helps her get donations from her supporters who see her as a martyr for the cause of "election integrity."
The only problem is, the story is not true.
Tina is the one who initiated the divorce
Tina was the one who filed for divorce from her husband on October 19, 2017, the same year her son was killed in a skydiving accident while performing at an air show in New Jersey. Records of the divorce action show she was the petitioner, which means she was the one who filed to dissolve the marriage. Tom is listed as the co-petitioner, which means he was the one who got served with the papers asking for a divorce: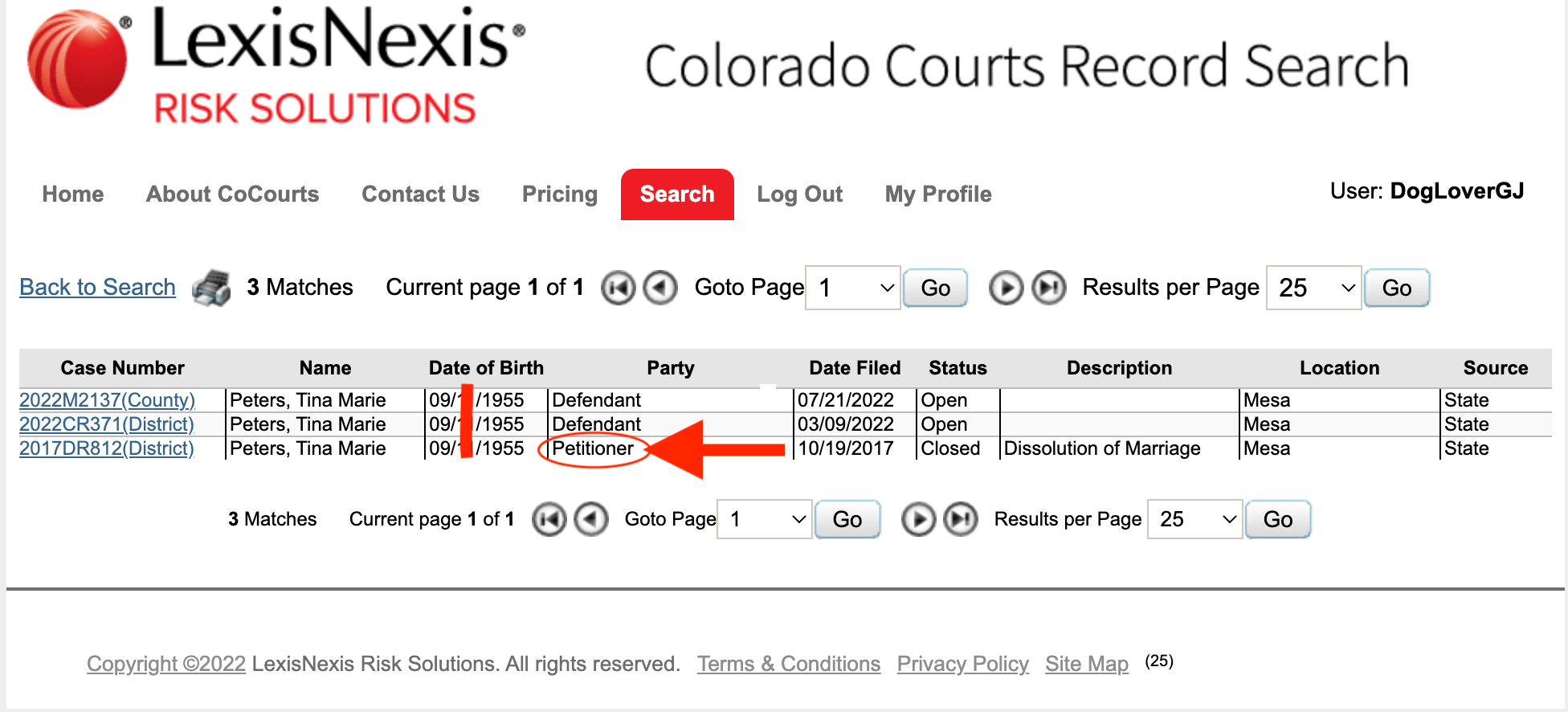 Tina and her husband Tom were separated for several years before finalizing the divorce. During that time Tina created a listing for herself on Match.com looking for dates, in which she described herself as "kind, considerate and caring," and "professional, not petty, no-drama." She said in the ad that she wouldn't go dutch on dates even though she could afford it, adding "Sorry, guys…if you can't afford to be with me then I'm not for you."
When I told D.A. Dan Rubinstein about Tina's "D.A.-forced-my-husband-with-advanced-dementia-to sign-divorce-papers-in-the-nursing-home" story, he responded that neither he nor anyone on his staff had ever spoken to Tina's ex-husband, that he didn't know Tom had been in a nursing home, and that he had never been to La Villa Grande nursing home.
Rubinstein said,
"I have never met, or spoken to her ex-husband. I have never been to LaVilla Grande nursing home, and until you reached out to me, I was unaware that he was there. To my knowledge, no member of my staff (including the DA investigators) have ever spoken to him [Tom] or been to that facility (at least not in connection with him). To my knowledge, nobody from the FBI has ever spoken with him, and because this is a joint investigation, I have access to all of the FBI reports in connection with this case. There is no indication that they have done so."
D.A. Rubinstein said his investigator did speak to Tom's Grand Junction attorney once after Tom filed
a lawsuit against Tina to get his house back
(pdf). In that lawsuit, Tom says Tina stole his house by falsifying a Power of Attorney and then using it to wrongly file a Quit Claim deed she used to transfer ownership of his house to herself. But that lawsuit, and that investigator's contact with Tom's attorney, both happened after Tom and Tina were already divorced.
So there is absolutely no truth to the story Tina has been repeatedly telling around the country that Mesa County D.A. Dan Rubinstein and/or the FBI went into a Grand Junction nursing home and "forced" her ex-husband, Tom, to sign divorce papers.