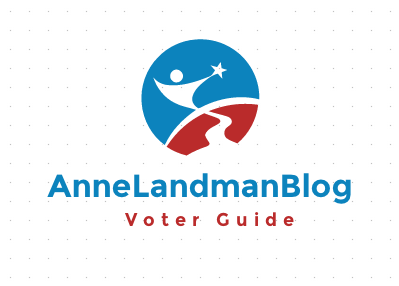 Wondering how to vote in the upcoming primary election on Tuesday, June 30, 2020?
Following are AnneLandmanBlog's recommendations for how to vote on the Mesa County Democratic Primary Ballot. Wherever candidates are running unopposed, VOTE FOR THEM. They are Democrats.
Given the difficult mess our country is in now, especially at the federal level and local levels after years of Republican domination, it's crucial for the country to change direction by electing Democrats to every office from top to bottom this year.
Here are the recommendations:
Federal offices:
U.S. Senator: Andrew Romanoff
District 3 House Representative: Diane Mitsch Busch
State Offices:
State Board of Education Member, 3rd Congressional District – Mayling Simpson (running unopposed)
State Representative, House District 54: Alice-Marie Slaven-Emond (running unopposed) — will face Republican incumbent Matt Soper.
Mesa County Commissioner District 1 (Fruita, Loma, Mack Glade Park west to Utah border) – Kathryn Bedell (running unopposed) – open seat, former seat of John Justman
Mesa County Commissioner, District 3 (East Valley, from 30 Road and east, including Palisade, Collbran, DeBeque, Gateway) – Dave Edwards
So you know, Scott Bielfuss (D), Vice Chair of the Mesa County Democratic Party, will be running against state House District 55** incumbent Janice Rich (R) in the general election. Since there is no other Democratic contender for this seat, Bielfuss will not appear on the primary ballot.
Republican Primary
AnneLandmanBlog cannot in good conscience recommend voting for any Republicans for office at this point, but for local Republican candidates who are members of the area's Old Guard Republican Establishment (OGREs), including those who have held elected office previously and want to stay on the public dole (Ray Scott, Janet Rowland, Scott Tipton and others), just enter their name as criteria in the search box on this blog to get information about them. I don't have info about County Commissioner District 1 candidate Cody Davis, but his father, John Davis, ran against incumbent Commissioner John Justman in 2016, and that was a typical, nutty Mesa County Republican hoot. I wrote previous blog about John Davis which may give you some insight into the family Cody comes from. Hint: hold onto your seats. Also, AnneLandmanBlog recommends voting for anyone besides Janet Rowland for Commissioner District 3. Here is information about Rowland that shows why we have made that decision.
Where is House District 55?
Do you know what Colorado House District you live in? Your Colorado House District Representative represent your interests (or is supposed to represent your interests) in the state legislature in Denver, which meets from January to May of each year.
House District 55 is known as "the doughnut hole," since it is surrounded on all sides by House District 55. House District 55 is generally the central area of Grand Junction. Here's a map so you can figure out which district you are in: