Click to hear the radio ad write-in candidate Bob Prescott made in response to Mesa County Commissioner Scott McInnis' repeated bullying (now playing on Moose Country radio stations):
The leader of Mesa County's Old Guard Republican Establishment (OGREs), Scott McInnis, has told write-in commissioner candidate Bob Prescott to his face, twice now, that he needs to get out of the race, because "You're not on the team," and "You need to just go away" because "you've already lost."
Prescott reports McInnis dissed him this way most recently at a Mesa County Republican Party luncheon held at Warehouse 2565 where around 30 people were in attendance.
Why is McInnis so rude to Prescott?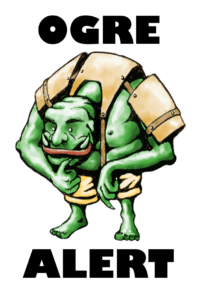 The OGREs, known here as "The Team," have ruled Mesa County politics with an iron fist for decades, blocking progress, keeping out new people and new ideas and attacking anyone who tries to upend their power. OGREs want to keep their long-standing grip on Mesa County politics so they can keep wages here low for the big business owners, keep out successful new industries they dislike, like legal marijuana, block the progress of renewable energy and keep promoting fossil fuels. In a nutshell, the OGREs want to keep Grand Junction in the last century.
This election, the OGREs are working to install Janet Rowland, a former two-term Mesa county commissioner, back onto the County Commission in the November election. This comports with the OGRE strategy of running the same members of their small circle of old, approved candidates over and over for public office, and aggressively pushing out new candidates, fresh faces and new ideas.
Prescott, a long-time Mesa County resident and Republican, is a newcomer to local politics and thus is not a member of the OGREs approved circle. The OGREs fear Prescott will split the Republican vote and help elect a Democrat to the Mesa County Board of Commissioners. That's why they are threatening Prescott, trying to intimidate him and pulling all their levers of power in an attempt to tank his effort to run for commissioner.
OGRE County Clerk Tina Peters helps out
Mesa County Clerk Tina Peters (an OGRE) has done yeoman's work in keeping Prescott's name off the ballot by throwing obstacles in front of him at every turn. She's delayed returning his phone calls, dragged out the amount of time her office takes to get him information he's requested, made errors in counting and verifying the signatures he gathered on his petitions to get on the ballot, given him wrong information about what constitutes a valid write-in vote, and other tactics.
Clerk Peters and Rowland are also close friends. Rowland even ran Peters' successful 2018 campaign for County Clerk, so Tina owes Janet a big favor, and Tina appears to be paying that favor back in spades, by using her position as Clerk to block Prescott's run for commissioner at every turn.
It worked.
Peters forced Prescott to run as a write-in candidate for the 3rd District Mesa County Commissioner seat, drastically cutting his odds of getting elected.
Prescott wants everyone to know he isn't taking McInnis' threats lying down, and he's not leaving the race
Prescott made a radio ad out of McInnis' attempts to intimidate him, and is running the ad on "Moose Country" radio in response to the OGRE's demands that he get out of the commissioner race.
Prescott says, "I'm running this [ad] because Scott McInnis was the 'leader.' He has told me to leave twice now. We had a big time argument at the Republican Men's luncheon."