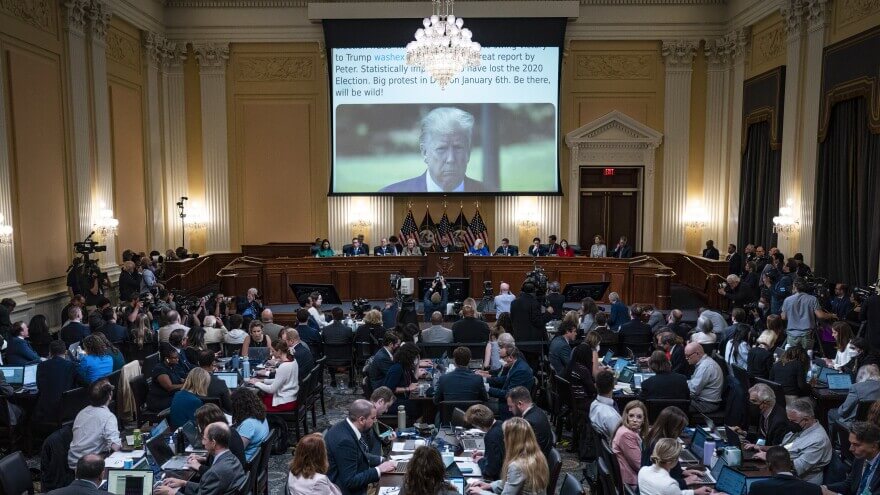 Update July 8, 2022 – The next hearing of the Jan. 6 Select Committee will be on July 12, 2022 at 10:00 a.m. Eastern Time, 8:00 a.m. Mountain (local) Time. A summary of what previous hearings have revealed is here.
Update – Wed., June 22, 2022 –The next January 6 Committee hearing will be Thursday, June 23 at 1:00 p.m. local time (3:00 p.m. Eastern Daylight Time). After posting a tipline with its last hearings, the Committee has received additional video footage and is also talking to Ginni Thomas about her cooperation, and because of all the new information, following hearings will be held in July.
Update – Tuesday, Jan. 21- The Jan 6 Select Committee examining the assault on the U.S. Capitol convenes today for its fourth public hearing this month. This session will focus on Trump's efforts to pressure state officials into falsifying election results to make it appear as though he had won, as part of his broader campaign to cling to office for a second term after he was informed by his White House attorneys, aides and family that he had lost the election. Today's hearing starts at 11:00 a.m. local time and will be broadcast live on CBS (KREX, Ch. 5) ABC (KJCT Ch. 8) and NBC (KKCO Ch. 11) television stations starting at 11:00 a.m. Mountain Daylight (local) Time, (1:00 p.m. Eastern). You can also watch the hearings live on the website of the PBS News Hour and the Jan. 6 Committee's YouTube channel.
***WARNING – the hearing may contain video of violence and foul language***