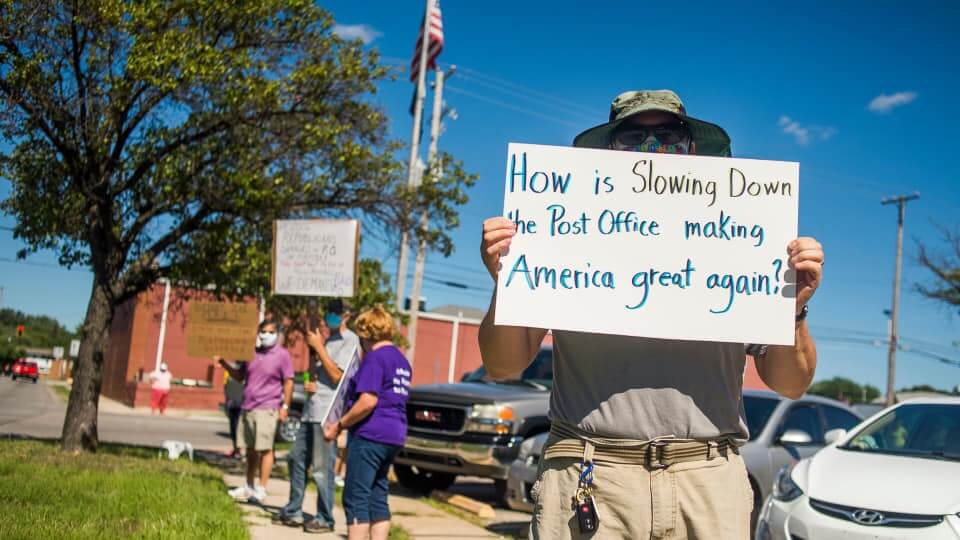 A rally is planned at noon on Wednesday, August 19 TUESDAY, AUGUST 25TH, in the parking lot behind the Alpine Bank building across from the Main Post Office to protest the deliberate slow-down of the U.S. Postal Service by the Trump administration. The rally is to show our community's support for postal workers who work under unbelievable constraints. Attendees will walk to Senator Cory Gardner's office to demand, in person, that he join Democrats in the Senate in calling for an immediate reversal of the ongoing attacks on our right to vote by mail.
Masks are required, and even though the rally will be outside, it will likely be difficult to maintain six feet of physical distancing from others, so please take care to maintain the gap. It will also be quite hot outside, so consider wearing a hat and bringing water. If the poor air quality in the valley has been negatively impacting your health, please consider staying home.
Why is this rally needed?
Last May, Trump appointed his political mega-donor, Louis DeJoy, as Postmaster General of the United States, even though DeJoy has no prior experience with the Postal Service. DeJoy and his wife also have significant investments in logistics companies that compete directly with the USPS. Since being installed in his position, DeJoy has been quietly implementing a step by step plan to cripple the Postal Service ahead of the November election. He's fired dozens of top administrators, implemented a policy of allowing employees zero overtime, and removed hundreds of high-speed sorting machines from post offices across the country, including in Grand Junction. DeJoy has also ordered the removal of thousands of the familiar blue USPS letter drop boxes.
These deliberate attacks on the U.S. Postal Service hurt EVERYONE, no matter what party you belong to.
Consider attending the rally to support the U.S. Postal Service and our local postal workers. Bring signs!
Further reading about Trump administration attack on Postal service: