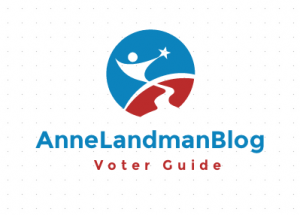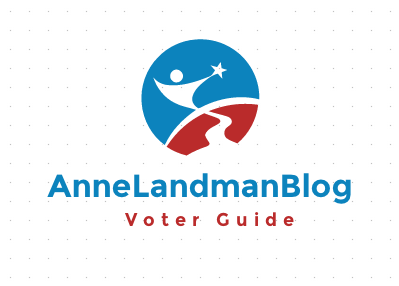 NOTE: This article is longer than usual owing to the number of people running, the amount of information available on them and the need to put the practical meaning of Chamber endorsements in context so people can accurately grasp their significance. One photo in this article may be unsuitable for kids. Below is a brief summary of my vote recommendations for school board, if you don't have time to read the whole article immediately:
Recommended Votes:
District C – Trish Mahre
District D – Nick Allan
District E – David Combs
—————————–
Following are summaries of the candidates running for District 51 School Board in the upcoming November 2 election. Sources of information included the candidates' publicly available campaign and work websites, their campaign and personal social media, and other primary and authoritative online resources, including minutes of District 51 Board meetings and the website of Mesa County Libraries.
District C Candidates:
Austin DeWitt
Andrea Haitz
Trish Mahre
Austin DeWitt graduated from Fruita Monument High School two years ago and currently works for the Grand Junction Rockies as a cook, prep, server and cashier. He also works as a custodian at two D-51 schools. As a recent graduate of the District 51 school system, he says he believes he is "closer to the school system than anyone else who is running."
Austin has a campaign website with a blog. Several of his blogs are his own original writing, but a blog dated September 12, 2021, titled "4 More Principals," [sic] was lifted word for word from the website of ProDane.org, a Dane County, Wisconsin group that is seeking to form a new, progressive political party. This can be verified by reading Austin's "4 More Principals" blog and then going to ProDane.org, navigating to "Our Platforms," and then to "Education Platform," and then scrolling down through ProDane's list of Principles to the topic "Equity and Inclusion." Read it, and you'll see that except for the first few introductory of sentences, Austin has lifted the most of his "4 More Principals" blog word for word from this page on ProDane.org's website, without giving any attribution and passing it off as his own ideas and writing. Austin put the same plagiarized work in a September 5 post on his Facebook page, which you can see here.
And this wasn't the only incident of plagiarism found on Austin's blog. In his August 4, 2021 blog titled "A 21st century education," Austin wrote:
"I want to ensure we are providing an education suited for the 21st century. With the rise of automation, focusing on memorization and 'teaching to the test' no longer adequately addresses student needs. We must utilize research, data and training to provide students with the critical thinking skills necessary to compete in the modern workforce.

We also have the duty to make sure students feel comfortable and accepted at school so they may perform to their fullest potential. That involves providing increased mental health resources for students and expanding the district's diversity and inclusion program."
Austin lifted this text from "School Board Candidate Responses – 2021 Meet the Candidates" (pdf), compiled by the Bethel Park Chamber of Commerce of Bethel Park, Pennsylvania. Specifically, Austin stole the response written by Bethel Park School Board candidate Daniel Grzybek, who has a degree in chemical engineering. [See page 26 of the 52-page pdf of the Bethel Park Chamber's "2021 Meet the Candidates" document.]
Bethel Park School Board candidate Grzybek wrote,
"…I want to ensure we are providing an education suited for the 21st century. With the rise of automation, focusing on memorization and 'teaching to the test' no longer adequately addresses student needs. We must utilize research, data, and training to provide students with the critical thinking skills necessary to compete in the modern workforce.

We also need to ensure students are comfortable and accepted at school so they may perform to their fullest potential. That involves providing increased mental health resources for students and expanding the district's Diversity and Inclusion program."
DeWitt's text matches most of Grzybek's work word for word.
Parts of Austin's other blogs were lifted from still other websites, including a SenecaAcademy.org article titled "Arts Integration in School: 10 Reasons Why It's Important." The additional principals Austin lists were also taken verbatim from other parts of ProDane.org's platform.
While he gets some points for stealing progressive ideas, unfortunately Austin is following unethical examples set by Republican Mesa County Commissioners Janet Rowland and Scott McInnis, both documented plagiarists who over the years have set bad examples of plagiarism that were publicly exposed and that embarrassed our area.
What's so bad about plagiarizing?
Plagiarism is lying, cheating and stealing rolled into a single act. It's theft of intellectual property, cheating by failing to give credit to the original author(s), and lying to your audience by leading them to believe the thoughts and writing are your own.
Plagiarism should be a drop-dead deal breaker for any candidate for public office, and even more so for a seat on school board. Any high school graduate in America should know that copying others' work is impermissible and unethical.
The last thing we need in Mesa County is another unethical elected official.
Andrea Haitz is a local realtor who describes herself on her work website as a combination of a real estate agent, super hero and super diva with "the elegance and sophistication of Audrey Hepburn."
If her name sounds familiar, it's probably because she is married to Greg Haitz, who ran for Grand Junction City Council earlier this year and lost.
Haitz, who does not indicate that she has any professional expertise in medicine, epidemiology or infectious disease, says she does not believe in mask mandates in schools regardless of public health experts' recommendations on how to best protect school children and teachers against Covid-19, a disease that has so far killed over 677,000 Americans with no end in sight as of this writing. Haitz also does not agree with students wearing masks in schools no matter how widespread a Covid-19 outbreak may become in a school. On August 3, she told Tom Ferguson of KKCO 11 News that "It's not the government's job to mandate masks and vaccines. That's a very personal choice that parents need to have with their healthcare provider."
On her campaign website, Haitz does not indicate whether she holds a position on building a new Grand Junction High School, a bond measure that is also on the November ballot.
Fourteen people and the Grand Junction Area Chamber of Commerce have endorsed Haitz, but Chamber endorsements must be considered in the context of historical experience:
**What voters need to know about Chamber endorsements**:
In the past the Chamber has endorsed candidates for school board who were unable to write a coherent sentence.
Longtime observation of chamber endorsements over the years has revealed that the Chamber does not evaluate candidates based on their experience, knowledge or qualifications to hold office. Rather, the Chamber considers solely a candidate's political affiliation and religious ideology. This narrow criteria for choosing candidates has proven detrimental to our community many, many times over.
The Chamber has repeatedly endorsed disastrous candidates and issues:
In 2012, the Chamber endorsed former Mesa County Sheriff's Office employee Steve King for state Senate. In 2014 King was arrested and charged with three counts of felony fraud, theft and embezzlement from Colorado Mesa University and the Mesa County Sheriff's Office. King pled guilty to the charges in 2015.
Also in 2012, House Rep. Laura Bradford, who as a candidate had been endorsed by the Chamber, was pulled over by Denver police for a DUI. She apologized and did not run again.
In 2014, the Chamber endorsed Ray Scott as a replacement for convicted felon Steve King, and endorsed him again for election to the State Senate. In 2018, Scott was found to be double-billing both his legislative and campaign expense accounts for over $1,000 in Uber rides. In addition, in 2019, Ray Scott was also sued by the ACLU for blocking constituents from his official government social media accounts, costing state taxpayers tens of thousands of dollars in legal fees.
In April of 2013, the Chamber endorsed Rick Brainard for G.J. City Council. Four days after he was elected, Brainard was arrested for beating up his girlfriend badly enough to turn half her face black and blue. In May of 2013, Brainard pled no
contest to the assault, but refused to step down from City Council until July, 2013, after generating months of outrage among Grand Junction citizens, and after citizens had devoted substantial time, effort and money into organizing a recall campaign.
In 2013, the Chamber endorsed City Referred Ballot Measure A to rezone the Brady Trucking site by the river to light industrial, promising the public that the rezone would bring a host of $70,000/year jobs and construction of a trail alongside the river. Voters passed the measure but no jobs or trails ever materialized as a result.
In 2018, the Chamber endorsed Matt Soper for House District 54. In 2020, the Delta County GOP posted a video on Facebook of Soper spewing lie after lie to Delta citizens in a speech he gave about the pandemic on a street in downtown Delta. The Delta County GOP has since pulled the video from their Facebook page, but not before I transcribed some of Soper's speech, so people could see the lies he told his constituents.
That's just a fraction of the Chamber's track record of troubled endorsements. The list goes on and on: the chamber has endorsed not just double dippers, felons, woman-beaters and candidates who are only marginally literate, but also a long list of expensive boondoggle proposals, including large-scale gambling, a downtown events center, renaming North Avenue, and a project to widen and zig-zag a 25 Road corridor.
History shows that more often than not, endorsement of a candidate by the Chamber bodes poorly for Mesa County, and amounts to being more of a negative predictor of character than a true, objective analysis of who is the best candidate for an office.
Haitz's "Unifier" claims
But back to Andrea Haitz.
On her campaign website, Haitz says she's "a unifier," and she has "worked collaboratively with others and united people rather than putting people at odds."
But her own campaign materials contradict this.
Haitz kicked off her campaign with a mass fundraising email that said:
"Political agendas are being jammed down our kids throats. Necessary tools that were once taught, like critical thinking, have now been replaced with divisive ideologies and revisionist history. I will not watch our kids be brainwashed. I am taking a stand!"
This highly polarizing message was designed to divide potential voters and appeal solely to a small number of hard-core, far right wing Mesa County citizens, generate outrage among them and get them to donate to her campaign. Many D-51 teachers and employees found this email offensive, contradicting Haitz's claims that she would be a "unifier" on school board.
Haitz acknowledged on her campaign website that Critical Race Theory (CRT) is not taught in D-51 schools and is only taught in colleges and universities, yet on her campaign website she wrote,
"Concerned parents, be assured that it [CRT] will not infiltrate our school through the front or back door on my watch."
Since CRT is not taught in any K-12 school, the only reason Haitz has to mention it on her campaign website is to draw potential votes from the extreme right, which has manufactured opposition to CRT nationally and used it as a wedge issue.
Affiliation with "Stand for the Constitution," a far right wing extremist group that has threatened holy and civil wars
Haitz is endorsed by "Stand for the Constitution," (SFTC) the extreme right wing group that has been demanding the County Commissioners declare Mesa County a "constitutional sanctuary," where state and federal laws don't apply. The Commissioners unanimously rejected SFTC's demand to do this because doing so would not only violate state and federal laws, but their oaths of office as well.
Haitz is also an election conspiracy theorist and, without providing any proof, promotes the Big Lie about widespread fraud in the 2020 election under the guise of "election integrity." She is also working to undermine faith in the County's voting equipment — a direct threat to democracy.
SFTC also supports Mesa County Clerk Tina Peters, who is currently the under criminal investigation by three law enforcement agencies: the Mesa County District Attorney, the state Attorney General and the FBI, for allegedly tampering with the County's voting equipment and giving confidential voting machine passwords to a right wing conspiracy theory website. SFTC members consider Tina Peters a hero. (video)
According to the Daily Sentinel, members of SFTC equate "the vaccines that have been developed against the coronavirus to Nazi-like medical experiments, and have "threatened holy and civil wars if counties like Mesa don't declare themselves exempt from state and federal laws."
Haitz's relationship to SFTC isn't casual or incidental, either. She is so closely aligned with this group that she currently has admin privileges on the group's Facebook page, so she can post to it at will. Indeed, she has been doing so to promote her own candidacy.
Belonging to an extremist group that calls for lawbreaking activity, holy war if they don't get their way, and that praises potential criminal activity by the Mesa County Clerk should be a deal breaker for any candidate for office.
Trish Mahre
Chief Deputy District Attorney Trish Mahre is running against Andrea Haitz for the District C School Board Seat
Trish Mahre currently holds the District C seat on school board after being appointed to the seat on May 5, 2020, near the beginning of the pandemic, so she already has over one year of experience on the District 51 School Board. She is seeking election to the seat.
Mahre graduated from Grand Junction High School in 1984, obtained a Bachelor of Science degree from University of Colorado, and graduated cum laude with a Juris Doctor degree from Seattle University Law School.
Mahre is the Chief Deputy District Attorney in the Mesa County District Attorney's Office, specializing in juvenile court and crimes against children. She has been in public service for over 30 years. She was head of the legal team that successfully re-tried Michael Blagg for the murder of his wife, assuring Blagg would remain in prison for life. She also successfully prosecuted the murder of Mesa County Sheriff Officer Derek Geer.
There is nothing overtly political on Trish Mahre's campaign website. Similarly she has no overtly political posts on her personal Facebook page, which consists mostly of photos of family members, travel and campaign promos. Most mentions of her name in local news are about cases she was involved in for the District Attorney's Office.
Mahre states a concern about keeping student safe on her campaign website, but does not mention the issue of masking anywhere on her campaign materials or personal social media. She also makes no mention Critical Race Theory. Mahre supports the bond measure to replace the aging Grand Junction High School with a new building, a measure that will also be on the November ballot. She has a long list of individuals who endorse her, but no mention of any endorsement by the Chamber.
District D Candidates
Nick Allan is a Colorado Springs native who moved to Grand Junction 5 years ago. He was a full time teacher in the Springs and now is a substitute teacher. His wife is also a teacher. Allan also works as a community organizer for the Western Colorado Alliance for Community Action, formerly Western Colorado Congress, where he works on local foods, agriculture and public lands issues.
Allan has been a regular at District 51 Board Meetings. Minutes of a District 51 School Board meeting from December, 2020 show he made the following comments, recorded in the minutes of the meeting (pdf):
"Mr. Allen shared that teachers he has spoken with all want in-person learning. He noted the District has been experiencing a teacher shortage and with COVID, teachers are putting their lives at risk. He thanked the District for requiring masks for students and staff. He feels once the community agrees to love they neighbor, by everyone wearing masks and with a vaccine now available, we should be nearing the end of this pandemic. He spoke about patriotism and the saying "we the people", and the president's acknowledgement that true patriots wear a mask."
In addition to his frequent attendance at school board meetings, Allen has been on the District Accountability Committee and has formed very specific ideas about what he feels is needed to improve the local schools, like assuring there is a certified teacher in every classroom, restoring 30 positions that D-51 cut because they could not find people to fill them, and bringing back support positions like teachers aides and librarians.
In an act of transparency, Allan posted a Daily Sentinel article about his campaign finances on his campaign website.
Will Jones
Will Jones was born and raised in Cheyenne, Wyoming. He has lived in Grand Junction for over 20 years and says he feels like a native. He has been a high school football coach in the Grand Valley for 11 years. He is the parent of a child in the school district and is on the Mesa County Junior Football Board. In his bio on his campaign website, he says has close contact with kids and feels he is trustworthy and easy to talk to.
What Jones doesn't mention is his bio is that he also works at the Fantasy Strip Club in Grand Junction.
On September 9, Jones posted a 2 minute long, self-described "racial rant video" on his Facebook page that he starts out by saying "Hopefully everybody is staying blessed." In the video, he says "A quality council is telling kids that they should feel privileged and that they're minorities. That's sad. With everything we have going on now, why do we have kids, students, telling others that they are minorities, or they are Caucasian, or whatever. It's kind of personally hits me, because my daughter is mixed, and she's in elementary school, and I dare somebody to tell my 8 year old daughter that she is a minority, or she is whatever…"
Jones says he wants to strengthen communication within the school district. On his campaign web page he says he detected frustration over the
"…lack of communication between educators and students, students and parents, and then parents and educators, I saw an opportunity and felt a true sense of duty to step forward and run for School Board. My goal is to create a methodology of open conversation to assist in eliminating the sense of alienation that is created when one part of the triangle is either left in the dark, or feels misunderstood."
Jones has been endorsed by the Grand Junction Area Chamber of Commerce.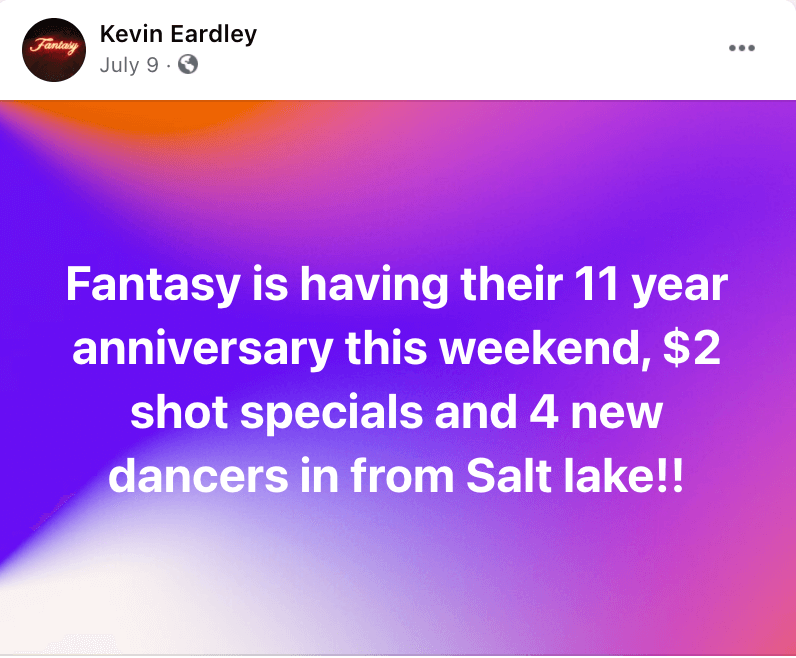 Willie D. Jones is also listed in the voter rolls as an inactive voter, according to VoteRecords.com. If a piece of mail sent by a government entity bounces back and is undeliverable, the county labels the recipient an inactive voter and he or she will not be sent a ballot in the mail. This could have happened if Jones moved his residence and neglected to update his voter registration with the new address.
District E Candidates (Incumbent: Amy Davis)
David Combs
David Combs has lived in the Grand Valley for 40 years and is running for the District E seat currently held by Dr. Amy Davis, who is not running again. Combs was born in Evansville, Indiana, grew up in Minneapolis and attended the University of South Dakota on a football scholarship, where he excelled in his studies. He worked in the oil and gas industry in Rock Springs, Wyoming before coming to the western slope in 1980, where he also worked in oil and gas. He answered an ad in the local newspaper looking for a basketball referee, and says in his biosketch on the Mesa County Libraries site that in this position, he experienced and observed racial discrimination.
To help this situation, he started the group Black Citizens and Friends (BCF) in the early 1980s, to support diversity in Mesa County. He also helped start the annual Martin Luther King Day celebration held locally. Combs announced his candidacy in July in front of the BCF booth at the Cesar Chavez Day celebration this summer at Las Colonias Park.
Combs is the father of four children who graduated from District 51 schools, and grandfather to three more who are currently enrolled in D-51 schools.
Combs told the Daily Sentinel in July that,
"There's a lot of talk out there about equity, inclusion and diversity. Some people seem to think that diversity is meant to take things away from them, but that's the opposite. It's about trying to bring people together … And I think doing that starts with being inclusive with children. …"One of the things that inspired me to run is where we are at today in this space. After George Floyd, after social unrest, everyone wants to be involved. We can't let that die down … There are some people out there who say, 'We don't want to bring that into the school system.' But it's not a matter of bringing it in, it's a matter of how are we going to teach this? This isn't politics, this is real life. This is history. This should be talked about everywhere."
On August 22, 2021, the Daily Sentinel published a thoughtful article written by Combs about Critical Race Theory, in which he reinforced that CRT is an advanced concept too complex for K-12 institutions and that's why it is taught at the university and post-graduate levels. He acknowledged that CRT is being "employed on a variety of local social media and elsewhere to perpetuate information that is patently false regarding the curriculum at School District 51." Combs said, "CRT is not, nor has it ever been, nor should it be a topic in D51's curriculum."
Combs has a full bio at the Mesa County Libraries website.
Combs has not been endorsed by the Chamber.
Angela Lema
Angela Lema owns and operates the Salon Professional Academy on North Ave. in Grand Junction. She does not have any children in District 51 schools. She does not mention having any position on the bond measure to build a new Grand Junction High School on her campaign website. She does not list any endorsements on her campaign website. She has an article about the controversy of masking in schools, though, and similar to Andrea Haitz's position, Lema does not appear to value input from public health officials or medical experts on the issue of transmitting Covid-19 in schools during a pandemic. Instead she says medical decisions should be left up to children and parents. Lema does not state that she has any experience in the medical field, but told Tom Ferguson of KKCO that "The most important thing are that parents and the kids get to decide these things, whether it's masking or [getting vaccinated], we just want to make sure that they're the ones in charge."
Lema has been endorsed by the Grand Junction Area Chamber of Commerce and is endorsed by Stand For the Constitution.