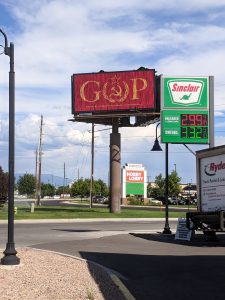 A billboard on I-70 B takes aim at the Republican Party (also known as the  "Grand Old Party" or GOP) which is quickly becoming "the party of Trump."
The billboard is in front of Rimrock Marketplace on I-70 B and draws attention to Republicans' alarming acceptance of President Trump cozying up to authoritarian dictators who disregard human rights.
The billboard will soon be moving to an even higher spot where it will be displayed to passers-by 100 percent of the time, instead of in 8-second increments rotating with 5-6 other ads. Stay tuned!