Western Colorado Atheists and Freethinkers was contacted by a Mesa Valley School District 51 parent who is upset over an ad for a Christian religious event targeting young girls that she received through the email system District 51 uses to send electronic fliers home to parents.
The flier promotes a Christian Bible study event for adolescent girls to be held at Colorado Mesa University called "Wake Up Sleeping Beauty: Worship At His Feet."
The flier contains white text overlaid on a pink silhouette of a girl's face that says,
"As she stood behind him at his feet weeping, she began to wet his feet with her tears. Then she wiped them with her hair, kissed them and poured perfume on them. Luke 7:38."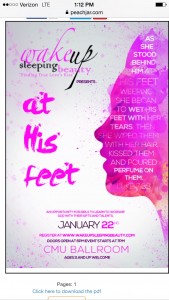 The program preaches a Christian version of how to handle sexuality to girls while urging them to remain "pure."
The parent who contacted D-51 was disturbed not only about the flier being delivered through public school channels, but also by the imagery the flier uses, specifically of a female humiliating herself at the feet of a male figure. The parent points out that District-51 has a policy against distributing material which "demeans a person or group based on gender," saying "The idea of a woman or girl ("she") crying at a man's feet, then using her hair to wash his feet, then kissing his feet, seems pretty demeaning to me. Apparently the irony of this imagery used to promote an event which purports to strengthen or support girls/women is lost on all involved."
Indeed.
After complaining about the flier to District 51, the parent got the following dismissive response from District 51's Communications Specialist, Jeannie Smith:
"Dear Ms. *******,
Thank you for your response. Having reviewed the flyer and KHB-R per your request, we do not find that the flyer promotes a religious organization or demeans a person or group on the basis of gender."
Oh, really.
So What Is This Crazy Religious Event?
June Fellhauer
, who operates a religious enterprise called Wake Up Ministries. Among other things, June preaches that girls need to
repent
for "time spent using social media, such as Facebook, IPhones, IPads, etc., and not spending more time with God and our family." But June herself makes heavy use of social media to promote herself and her ministry: She has a
personal Facebook page
, a 
"Wake Up Ministries" Facebook page
, a
LinkedIn page
 and several "Wake Up Ministry" web sites and domain names, including
WakeUpMinistriesOnline.com
 and WakeUpSleepingBeauty.com that promote her preaching. June also published a YouTube
video
 titled "Women's Purpose" and other videos
targeting girls
with Christian viewpoints on proper sexual behavior. June also promotes her "Sleeping Beauty" events using EventBrite.com, a web site that allows people to book tickets online. The
EventBrite announcement
of the CMU event says: "Moms, bring your daughters and listen to June Fellhauer as she confronts the culture war of Facebook and other social media."
The "Sleeping Beauty" Christian worship/purity sessions are put on by a Grand Junction woman named
Indeed.
June sells products on her web page, like T-shirts ($20 each), DVDs and workbooks and a package-set for a "small group course" for $200. She sells an e-book on Google Books called Wake Up Sleeping Beauty in which she condemns Madalyn Murray O'Hair, the country's first "out" atheist who was kidnapped, murdered and mutilated in 1995, and Norma McCorvey, who was the "Jane Roe" whose legal case led the Supreme Court to legalize abortion in the U.S.
District 51 might also do well to notice that one of June's website lists a goal that involves them:
"We will give everything about education back to God: buildings, teachers, students, administration, etc."
Fortunately, the flier, website, TV ad and even a billboard on the Redlands Parkway advertising the "Sleeping Beauty" event are all fairly incoherent and poorly legible.
Trouble on the Horizon?
At the same time, we have a public school system that readily agrees to distribute religious material through its taxpayer-funded email system without thinking twice about it.
At least we have some educated parents like the one who complained about the flier being sent through the public school system, and a growing secular population in our area who spot and report such transgressions, and who are getting increasingly frustrated and fed up with religious promotion in our local public schools.