Three days ago, Colorado State Senator Ray Scott (R-Dist. 7) posted a link on his blog to a Forbes article titled "'97% of Climate Scientists Agree' is 100% Wrong."
Scott posted the article as a way to tell his constituents who value the environment, "Ha! I told you so! Global warming is fake!"
The author of the article is Alex Epstein, who has a BA in philosophy from Duke University, but no scientific background. Epstein is a staunch, paid philosophical defender of the fossil fuel industry. His biggest claim to fame is a book he authored in 2014 called "The Moral Case for Fossil Fuels," which seeks to make a philosophical case for fossil fuel use, evidently because a valid scientific case for continued fossil fuel use can't be made.
Epstein writes in his book that:
"Compared with the alternatives, the overall impact of using fossil fuels is to make the world a far better place. We are morally obligated to use more fossil fuels for the sake of our economy and our environment."
Epstein's other claim to fame is his for-profit think tank called the Center for Industrial Progress (CIP) that operates on gifts from donors. Epstein speaks at corporate events and offers "consulting" services for the energy industry. CIP has described its consulting service as being "unmatched in its ability to successfully out-message 'environmentalists' and turn their supporters into your supporters."
Epstein made Rolling Stone's 2013 list of Global Warming's Denier Elite, along with such well-known people and entities as Charles and David Koch, the American Legislative Exchange Council and Rex Tillerson, former CEO of Exxon who is now Secretary of State under Trump.
The Center for Industrial Progress' blog has articles that praise oil refineries and urge people to "embrace DDT." 
Epstein started a Facebook page in 2012 called "I Love Fossil Fuels"  and sells swag (T-shirts, lapel pins and other stuff) that says "I Love Fossil Fuels."
Epstein Mouths Off to MA Attorney General
In 2016, Massachusetts Attorney General Maura Healy subpoenaed 40 years of communication between ExxonMobil and free market groups like Epstein's Center for Industrial Progress to investigate ExxonMobile's internal research on global warming after reports published in 2015 suggested the company encouraged confusion over climate change while its own scientists recognized the risks. At a March, 2016 press conference Healy said:
"Fossil fuel companies that deceived investors and consumers about the dangers of climate change should be, must be, held accountable. . . . We can all see today the troubling disconnect between what Exxon knew, what industry folks knew, and what the company and industry chose to share with investors and with the American public."
Epstein's organization, CIP, was one of the groups whose documents Healy subpoenaed in this investigation.
In response to the subpoena, Epstein issued the following tweet: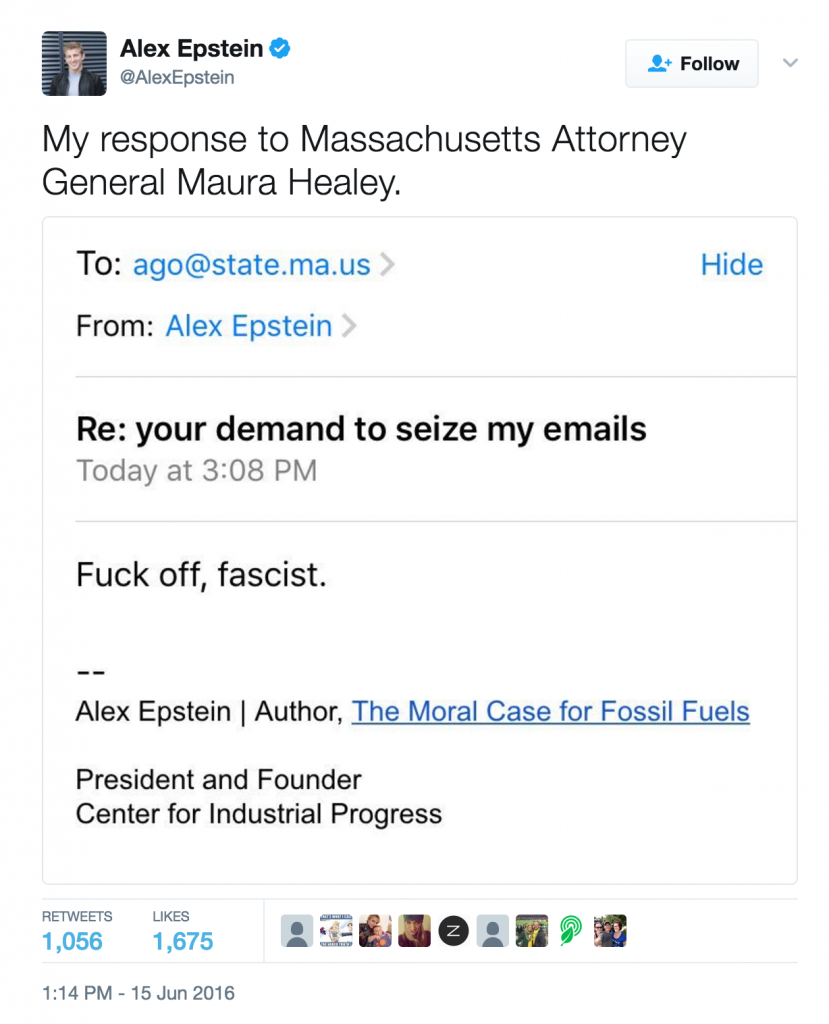 Very professional.
This is all Ray Scott's constituents to know about the kind of people he cites to help bolster his losing climate change denial arguments.
————-
P.S. – Ray Scott could also use a grammar lesson: