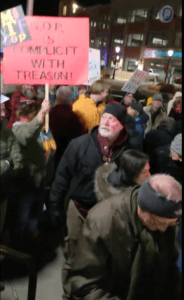 A woman was pushed to the ground by a Trump supporter at the pro-impeachment rally Tuesday evening in front of the federal building on Rood Ave. at 4th Street in Grand Junction. The woman hit her head on the concrete and was injured. She recognized Congressman Scott Tipton's Constituent Services Representative Brandon Bainer standing nearby and asked him to call 911 for her. She says he didn't help her but instead said "I am on my own time and after 5:00." The woman recognized Mr. Bainer because she goes to Congressman Tipton and Senator Cory Gardner's offices frequently and has met him there many times. Someone else called help and she says that's why the ambulances that were on 4th Street during the rally.
The woman was taken to the hospital where she had a CAT scan and was diagnosed with a concussion. She filed a police report about the incident.
She is recovering at home.