Lauren Boebert such a terrible Republican candidate for CD-3 that the Grand Junction Area Chamber of Commerce has refused to endorse her.
You have to understand how the Grand Junction Area Chamber works in order to fully grasp how momentous this non-endorsement is.
Even the Tea Party Chamber doesn't like Boebert.
Under Diane Schwenke, its president of the last 30 years, the G.J. Area Chamber in 2012 became a politically far right wing tea-party group that portrays itself as a champion of small business, while they actually put their political effort into lobbying for the big businesses that pony up their highest membership fees of $7,000/year.
This makes for some weird actions by the Chamber.
The Chamber has endorsed criminals for city council, they've endorsed people who can't write a coherent sentence for school board, and they even endorsed a dental hygienist for Drainage Board who'd lived here 2 years, moved here from San Diego and couldn't tell a drainage ditch from an irrigation ditch over a candidate who'd served on Palisade Town Council for 8 years, been mayor pro-tem, sat on the 5-2-1 Drainage Authority Board, sat on the Colorado Municipal League's Executive Board for 6 years, had attended seminars on wastewater management and subscribed to periodicals about drainage just for fun. Why? Because the lady from San Diego opposed a fee the drainage district sought to fund much-needed updating of the valley's troubled, outdated drainage system.
Republicans only in the OGREs Club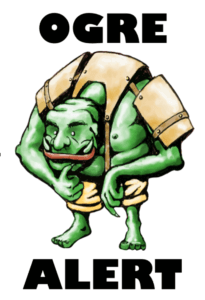 The G.J. Chamber is a gatekeeper for Mesa County's Old Guard Republican Establishment (OGREs). The only thing that matters to the Grand Junction Chamber is that candidates they endorse have an "R" after their names and oppose every single tax or fee ever proposed, unless it's for one of their bonehead projects like the North Avenue name change, the Downtown Events Center, the Riverside Parkway Zig Zag Project, the Brady Trucking Rezone, large-scale gambling in Mesa County or other losing ideas they've floated.
The Chamber would endorse a 2 day-old pile of dog doo for elected office if it had an "R" after its name. And if someone stepped up to run for local office who was a descendant of George Washington, Abraham Lincoln and Mother Teresa combined, had six advanced degrees and decades of public service under their belt but was a Democrat, the Chamber wouldn't touch them with a 50 foot pole.
But the Chamber decided NOT to endorse whip-snortin', gun-totin', right-wing slogan-spewing, small business owner Lauren Boebert.
That's Pretty. Damn. Bad.
(Or should we say "good"?)