After a company has been outed as over-the-top greedy, there's nothing left for it to do but make conspicuous donations to local charities to score public relations points and blow smoke to make people forget about how their business has harmed the community in the long term.
That's likely why, near the end of 2022, after all the unseemly tactics Red Rock Auto dealerships had been using on customers to fleece them out of thousands of dollars over the last 7 years were exposed, Red Rock suddenly started ramping up its donations to local charities and promoting their donations in ads on TV and through free media given to them by local TV stations and newspapers.
A company that ingratiates itself to reputable charitable causes as a way to distract from its immoral acts is engaging in a form of "greedwashing," a term developed during the taxpayer-funded federal bailouts of the big banks during the economic crash of 2008-2009: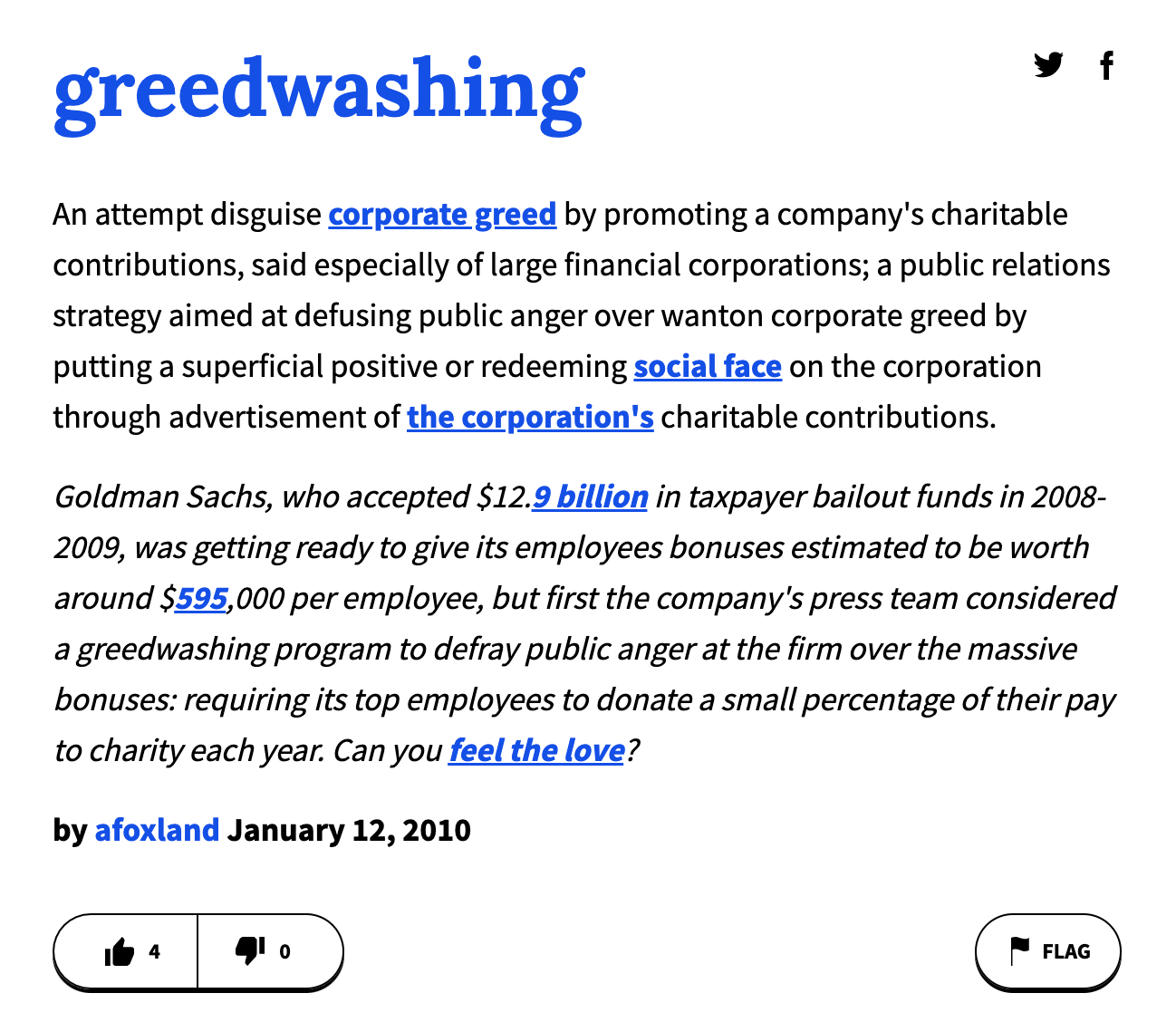 Red Rock's greedwashing so far has included but is not limited to:
A decades-old corporate PR strategy
Greedwashing was pioneered by tobacco companies around 40 years ago in the form of so-called "corporate social responsibility" programs, like the "We Card" program cigarette makers rolled out in retail stores in the 1980s-1990s, and their fake "Youth Smoking Prevention Programs," which sought to distract from how cigarette makers were marketing cigarettes to kids using cartoon characters, celebrity endorsements and flavored tobacco. These programs allowed cigarette makers to run ad ads claiming they were acting in the public interest, while working to distract people from the harm they were doing to kids. These programs also helped cigarette makers put the blame on others, like store clerks and kids, for their companies' misdeeds rather than acknowledge the massive harm their products and marketing tactics were doing to society.
Greedwashing campaigns also help delay any real consequences from regulators or law enforcement agencies for a company's shady actions by putting a redemptive face on the company and giving its owners something to point to that ostensibly shows the good they are doing for a community.
Red Rock still hasn't admitted to the harm they've done to our community — the financial straits they've plunged families into and how they've ruined so many people's credit and made people's financial lives a huge struggle for years to come. In the meantime, the profits Red Rock has reaped through the illicit tactics they've used on unsuspecting customers have allowed them to grow from owning just one dealership to owning five dealerships since they came to Grand Junction in 2016. This explosive growth indicates that what Red Rock donates to charity is probably a vanishingly small amount compared to the profits they've illicitly squeezed out of customers over their years of operations here. It's also likely that weird extra add-on charges Red Rock has tacked onto people's invoices without their knowing, like "Worry-Free Gas," are surcharges that help the company pay for their charitable contributions.
For their part, the charities are going along with it, smiling and ingratiating themselves to Red Rock, and it's hard to blame them, since big money is hard to come by for nonprofits.
But that doesn't stop the rest of us from seeing through the ploy and knowing why it is happening in the first place.