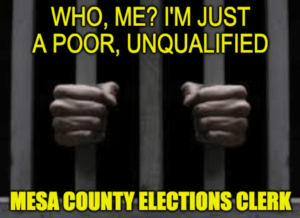 Tina Peters might have more legal exposure than previously recognized for having lost 574 ballots from the 2018 general election.
Colorado laws governing the conduct of elections include "neglect" and "failure to perform duties" among the list of behaviors by elected officials deemed punishable by fines, imprisonment, or both:
"1-13-107. Violation of duty.

Any public officer, election official, or other person upon whom any duty is imposed by this code who violates, neglects, or fails to perform such duty or is guilty of corrupt conduct … and, upon conviction thereof, shall be punished as provided in section 1-13-111."
Tina Peters arguably violated, neglected and failed to perform her duty to count all ballots turned into the County in the 2018 general election.
Contrary to what the Mesa County Republican Party has asserted, this is not a trivial matter.