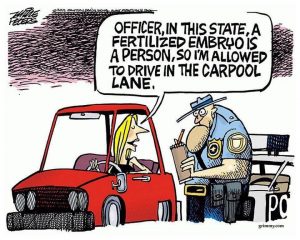 In late May 2022, Oklahoma once again passed the nation's worst abortion ban, making it the first state to effectively end women's right to have an abortion, and making this article, that I first published on May 20, 2019, even more relevant.
Oklahoma Republicans just passed a mind-blowingly strict law that makes abortion illegal in virtually every circumstance, effectively terminating the right of women in the state to control their own bodies and reproductive fate.
Oklahoma wasn't alone in this, either. Other Republican-dominated states are also enacting extremely strict laws that effectively make abortion illegal, with some banning the procedure as soon as a fetal heartbeat is detected.
Republicans base these laws on their belief that a fetus is a fully legal person entitled to all the rights and privileges that all legal American citizens enjoy.
But if actually put into effect, what do these beliefs really portend for life in America?